Audison Thesis Series TH due 2 Channel Stereo Amplifier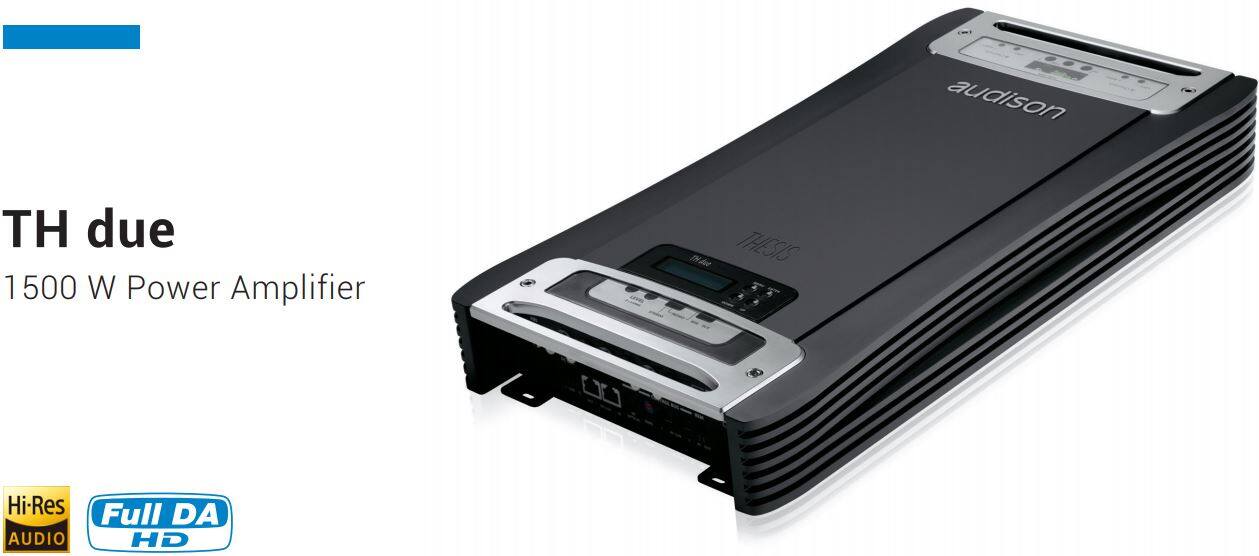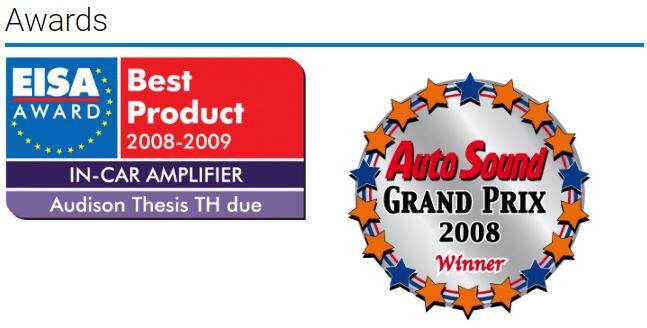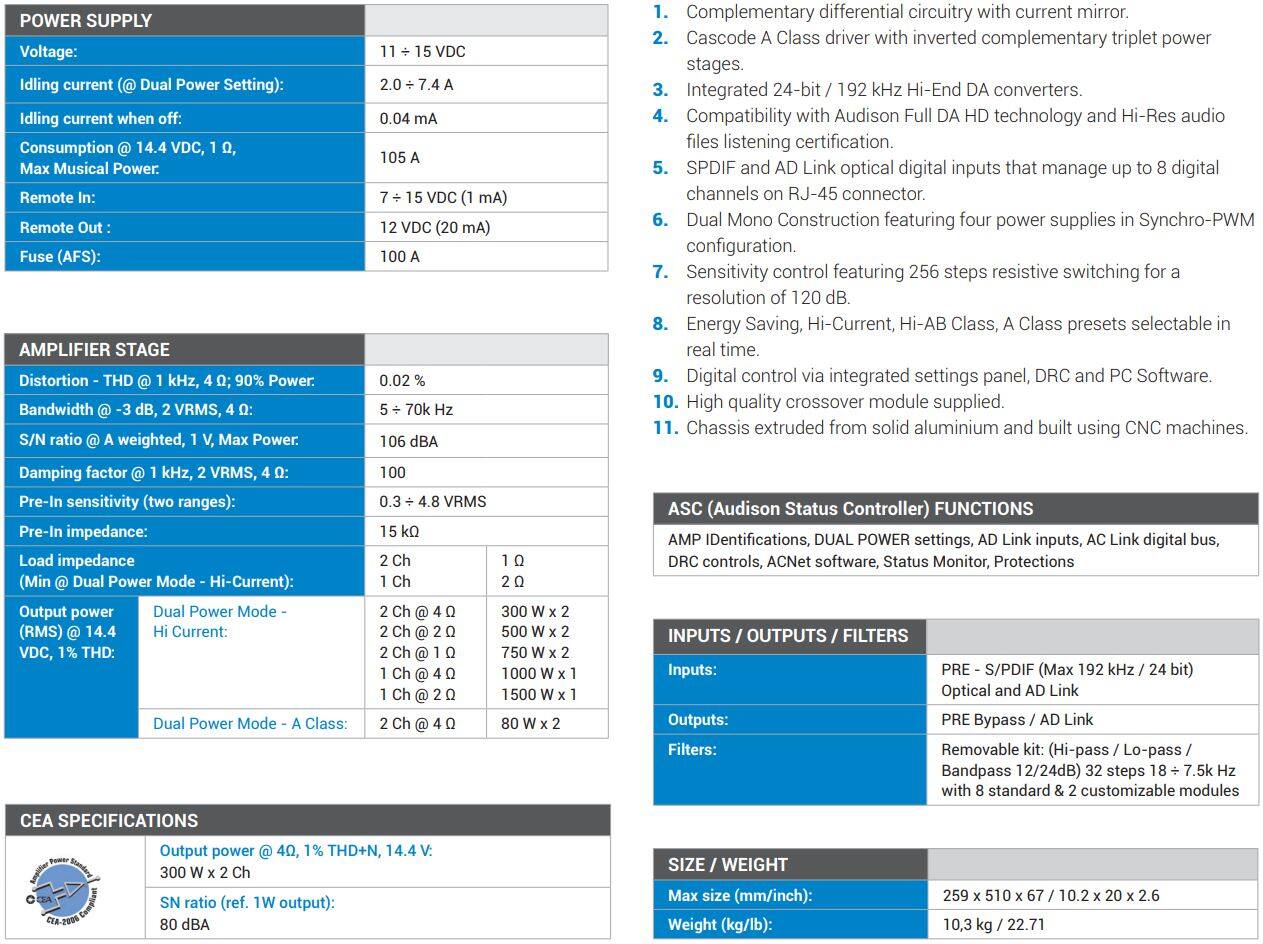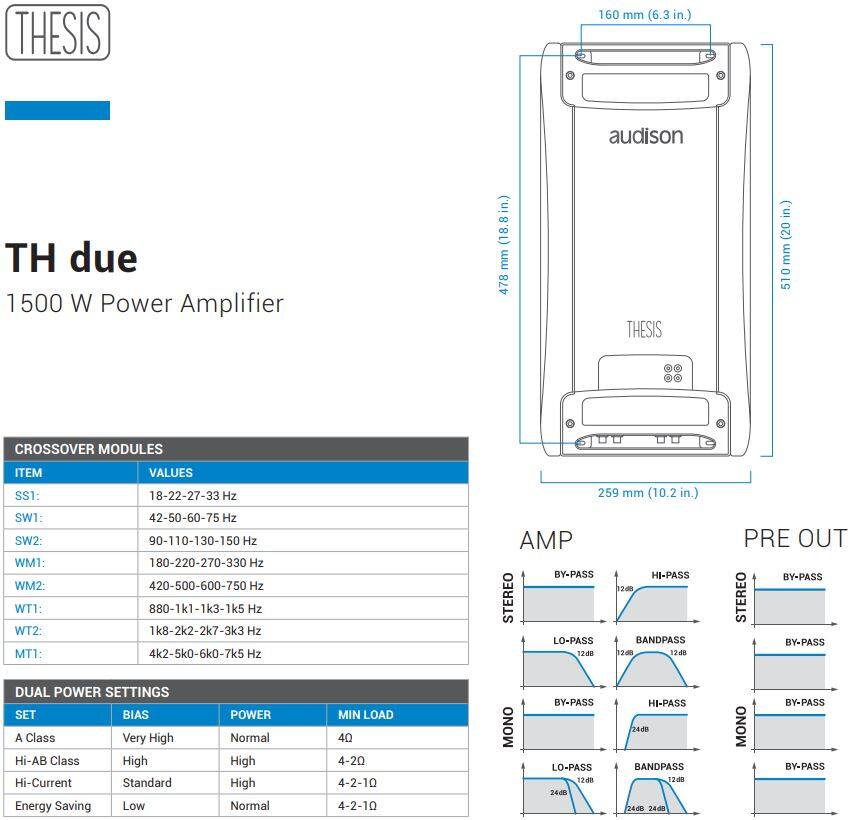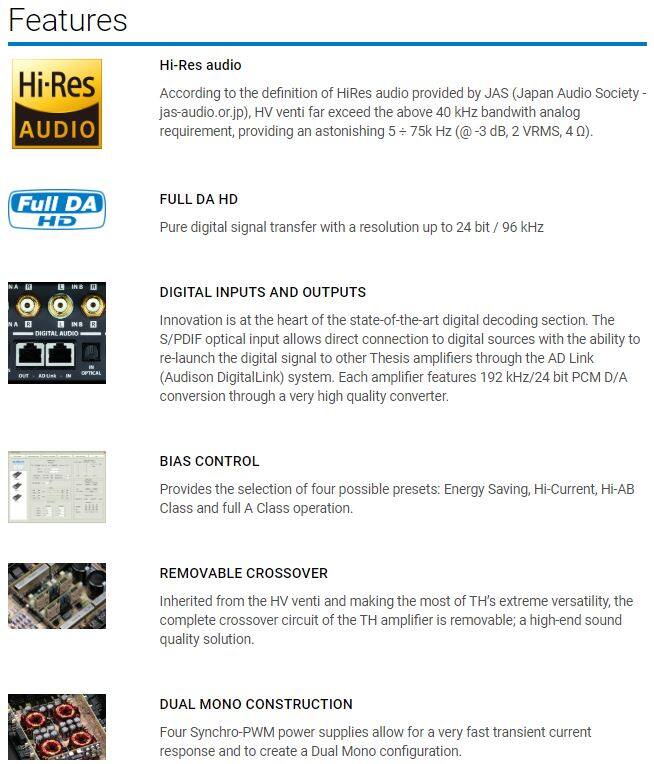 The Thesis TH amplifiers are manufactured using state-of-the-art analog and digital technology. Class A amplification stage, multi-standard analog and digital inputs and the control of the amplifier through a microprocessor make this product the most evolved among the Audison range.
TH due is a bridgeable stereo amplifier: a logical choice and natural partner for systems where versatility, power and quality are the main parameters.
Technical Specifications
Power supply
Voltage: 11 ÷ 15VDC

Idling current:

A-Class: 7.4A

Hi-AB Class: 6.2A

Hi-Current: 3.5A

Energy Saving: 2.0A

Switched off: 0.04mA

Consumption @ 14.4 VDC, 1Ω, Max musical power: 105A

Remote IN voltage:7 ÷ 15 VDC (1mA)

Remote OUT voltage: 12 VDC (50mA)

Internal fuse (AFS): 100A
Amplifier Stage
Distortion - THD @ 1 kHz, 4Ω, 90% Power: 0.02%

Bandwidth @ -3 dB, 2V RMS, 4Ω: 5 ÷ 70kHz

S/N ratio @ A weighted, 1 V, Max Power: 106dBA

Damping factor @ 1 kHz, 2 V RMS, 4Ω: 100

Input sensitivity (two ranges): 0.3 ÷ 1.2 / 1.2 ÷ 4.8V RMS

Input impedance (PRE IN): 15kΩ

Load impedance (Min @ Dual Power Mode - Hi-Current):

Output power (RMS) @ 14.4 VDC, 1% THD

Dual Power Mode - Hi-Current:

2 Ch @ 4 Ω 300W x 2

2 Ch @ 2 Ω 500W x 2

2 Ch @ 1 Ω 750W x 2

1 Ch @ 4 Ω 1000W x 1

1 Ch @ 2 Ω 1500W x 1

Dual Power Mode - A Class:
CEA Specifications
Output power @ 4 Ω, ≤ 1% THD+N, 14.4V: 300W x 2 Ch

SN ratio (ref. 1 W output): 80 dBA
Inputs / Outputs / Filters
Inputs: PRE / SP-DIF (Max 192 kHz/24 bit) OPTICAL and AD Link

Outputs: PRE Bypass / AD link

Filters: Removable kit (Hi-pass / Lo-pass / Band-pass 12/24 dB/oct) 32 steps 18 ÷ 7.5k Hz with 8 standard & 2 customizable modules
Content:
1 x Car Amplifier

Manual

Fitting as per Manufacturer