Audison Voce Series AV Uno Monoblock 1-CH Car Amplifier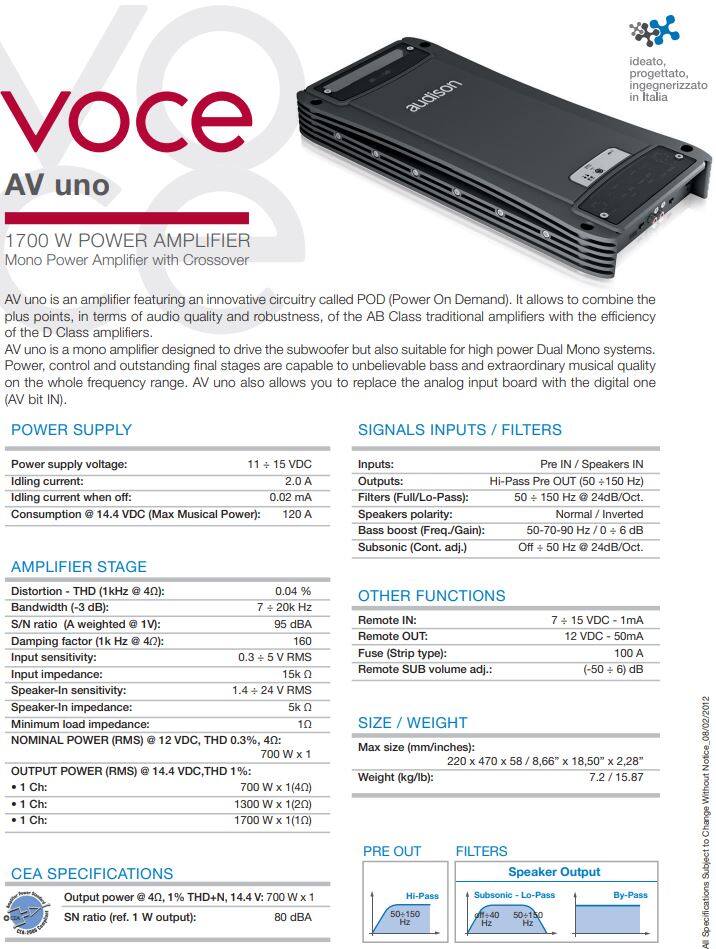 AV uno is an amplifier featuring an innovative circuitry called POD (Power On Demand); it provides at the final stage in AB class a dynamic power that serves as a tracker to the signal to be amplified so as to increase efficiency and reduce the temperature.
AV uno allows to combine the plus points, in terms of audio quality and robustness, of the AB Class traditional amplifiers with the efficiency of the D Class amplifiers. AMP (Amplifier Management Processor) constantly checks the operating status system and communicates with the user through 4 different coloured LEDs, located on the top panel; ART (Automatic Remote Turn On-Off) allows automatic turn-on/off when a remote signal isn't available from the source.
AV uno is a mono amplifier designed to drive the subwoofer but also suitable for high power Dual Mono systems.
Technical Specifications
Power Supply
Power supply voltage: 11 ÷ 15 VDC

Idling current: 2A

Idling current when off: 0.02mA

Consumption @ 14.4 VDC (Max Musical Power): 120A
Amplifier Stage
Distortion - THD (1kHz @ 4Ω): 0.04%

Bandwidth (-3 dB): 7 ÷ 20k Hz S/N ratio (A weighted @ 1V): 95dBA

Damping factor (1k Hz @ 4Ω): 160

Input sensitivity: 0.3 ÷ 5V RMS

Input impedance: 15kΩ

Speaker-In sensitivity: 1.4 ÷ 24V RMS

Speaker-In impedance: 5kΩ

Minimum load impedance: 1Ω

NOMINAL POWER (RMS) @ 12 VDC, THD 0.3%, 4Ω: 700 W x 1

OUTPUT POWER (RMS) @ 14.4 VDC,THD 1%:

1 Ch: 700W x 1 (4Ω)

1 Ch: 1300W x 1 (2Ω)

1 Ch: 1700W x 1 (1Ω)
CEA Specifications
Output power @ 4Ω, 1% THD+N, 14.4 V: 700W x 1Ch

SN ratio (ref. 1W output): 80dBA
Signals Input/ Filters
Inputs: Pre IN / Speakers IN

Outputs: Hi-Pass Pre OUT (50 ÷ 150 Hz)

Filters (Full / Lo-Pass): 50 ÷ 150 Hz @ 24 dB/Oct.

Speaker polarity: Normal / Inverted

Bass Boost (Freq. / Gain): 50-70-90 Hz / 0 ÷ 6 dB

Subsonic (Cont. adj.): Off ÷ 50 Hz @ 24 dB/Oct.
Other Functions
Remote IN: 7 ÷ 15 VDC - 1mA

Remote OUT: 12 VDC - 50mA

Fuse (strip type): 100A

Remote SUB volume adj. (with Lo-Pass 24 dB): (-50 ÷ 6) dB