---
Hella Chrome Twin Tone Fanfaren Horn Set Universal 12V Louder Car Vehicle Horn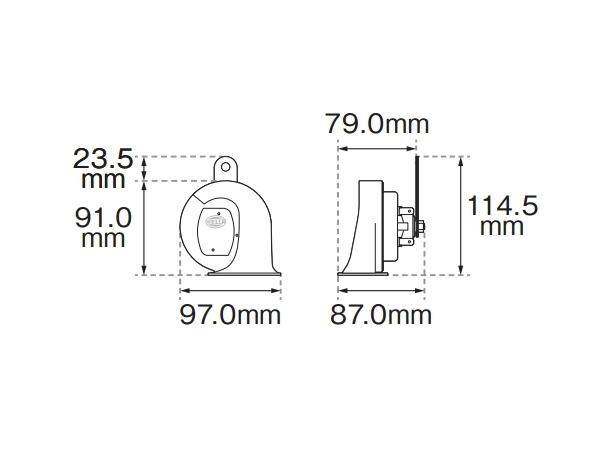 Overview
If you are looking for a set of horns for your car that will make it stand out, then look no further than this set of thin tone horn from the house of Hella. This product comes in a set of two with dual horns which combine to give you a melodious horn that is sure to get attention when on the road.
Design and Material
The Hella Twin Tone Horn Set of 2 as the name suggest features twin horn which gives you a harmonious sound of two kinds of horns which is quite soothing to the ears and is sure to get the attention of the people. It is made of premium quality metal which gives it a sturdy construction and can withstand impacts and high temperature. It measures 87 x 97 x 91 mm which makes it a convenient size that is easy to install. The horns have a frequency of 410 Hz and 510 Hz respectively which makes it quite audible even from a distance. This horn is compatible for all types of cars.
Care and Maintenance
When it comes to the care and maintenance, it is important to keep certain things in mind to ensure that you get the best of services that this Hella Twin Tone Horn Set of 2 has to offer. Firstly it is important to set it up in the correct location of your car along with the right amount of current passing through it. Since it works on 12 V it must be made sure that no other voltage is applied on it. It is also important to avoid blowing your horn over and over again as this hampers the quality.
Product Specifications
Frequency: 410 Hz (Low Tone), 510 Hz (High Tone)

Sound Pressure Level at 2m (Dual Tone): 112 dB(A)

Voltage: 12V

Power Consumption: 2 x 72W

Colour: Chrome

Part Number: 

3FH 007 728-883