4x Genuine Hella Iridium Pro IM8RC11P Supperior Performance Spark Plug Kit
4x Genuine Hella Iridium Pro IM8RC11P Supperior Performance Spark Plug Kit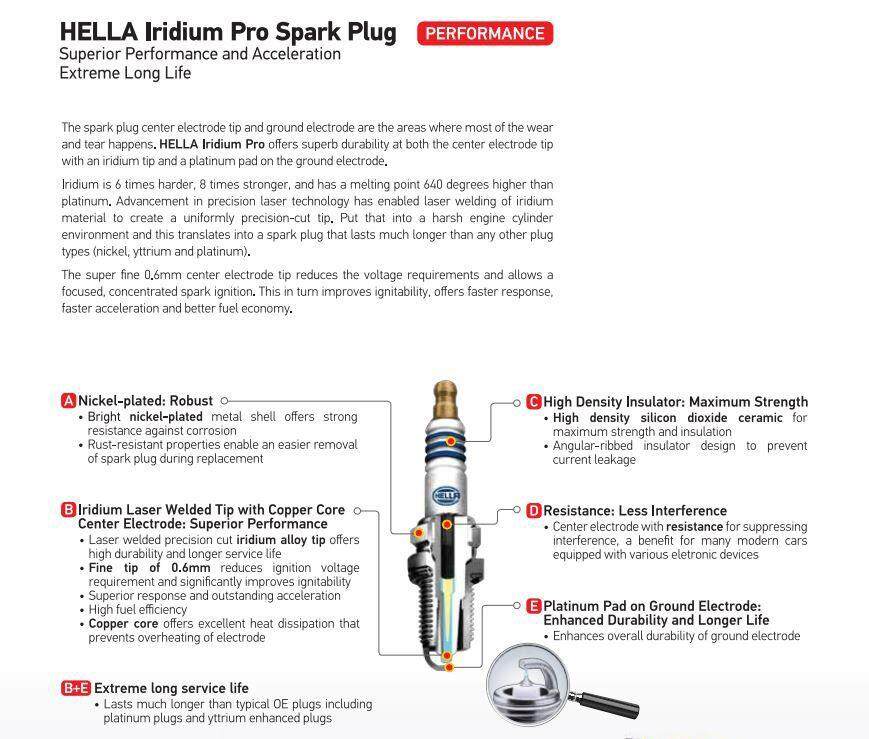 Superior Performance and Acceleration
Extreme Long Life
The spark plug center electrode tip and ground electrode are the areas where most of the wear and tear happens. HELLA Iridium Pro offers superb durability at both the center electrode tip with an iridium tip and a platinum pad on the ground electrode.
Iridium is 6 times harder, 8 times stronger, and has a melting point 700 degrees higher than platinum. Advancement in precision laser technology has enabled laser welding of iridium material to create a uniformly precision-cut tip. Put that into a harsh engine cylinder environment and this translates into a spark plug that lasts much longer than any other plug types (nickel, yttrium and platinum).
The super fine 0.6mm center electrode tip reduces the voltage requirements and allows a focused, concentrated spark ignition. This in turn improves ignitability, offers faster response, faster acceleration and better fuel economy.
Content
4 x Hella Iridium Pro Spark Plug
Quick reply, prompt response and got the best service Pioneer Player deliver as authentic to me. Great Seller and Keep it up !

Cj Tan
Good service - patient and helpful from Kevin. Explained and advised which unit is more suitable for me based on my needs. Highly recommended.

Andy Wei Loon Teh
great service by Kevin, very good advise on car speaker.

Kelvin Wong Zhi Qing
Excellent service and very reasonable prices for Focal and Audison from Chris and the team. Been a returning customer for years.

Raymond Tan
very helpful , even is after one year of buying , they still very friendly assist me fully recommended

Kit Chen
Definitely the store I would recommend if you are looking for wide range car audio product. Good selection of products and excellent service. Price is reasonable too.

Soh Tan Jue
Great customer service, answer all my questions before I made my decision. Definitely will introduce my friend to get their car audio upgrade from them. Thumbs up for the service.

Tien Kiat Ong