Hella JP Kuro Twin Tone Horn Set 12 Volt Style Range Universal Car Horn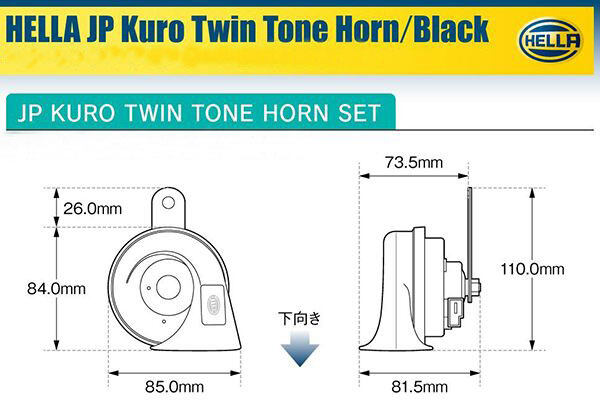 The contours of the HELLA JP Kuro Twin Tone trumpet horn are engineered to project a wide sound emission, making it ideal for driving. It comes with a compact design for east installation and is corrosion resistant.
This JP Kuro (black) twin tone (snail type) horn adopts only one terminal connector for Japanese car exclusively for domestic sales in Japan (Japanese car), depending on the vehicle, it is easy to install with "coupler on" It is a possible product. Even in crowded urban areas, it is a design that makes the sound resonate, especially in a wide range, and is characterized by a thin design considering installation space.
Product Specifications
It comes with a compact design for easy installation

400 / 500 Hz

110 db (A)

12 V

Corrosion resistant

Harmonious Tone

Stylish Design

Proven quality and performance

Part Number: 3FH 012010 921