Regular price
RM1,099.00
Sale price
RM702.00
Unit price
per
Sale
Sold out
Infinity Primus 6004A Primus Series 1000Watts Class-D 4-Channel Car Amplifier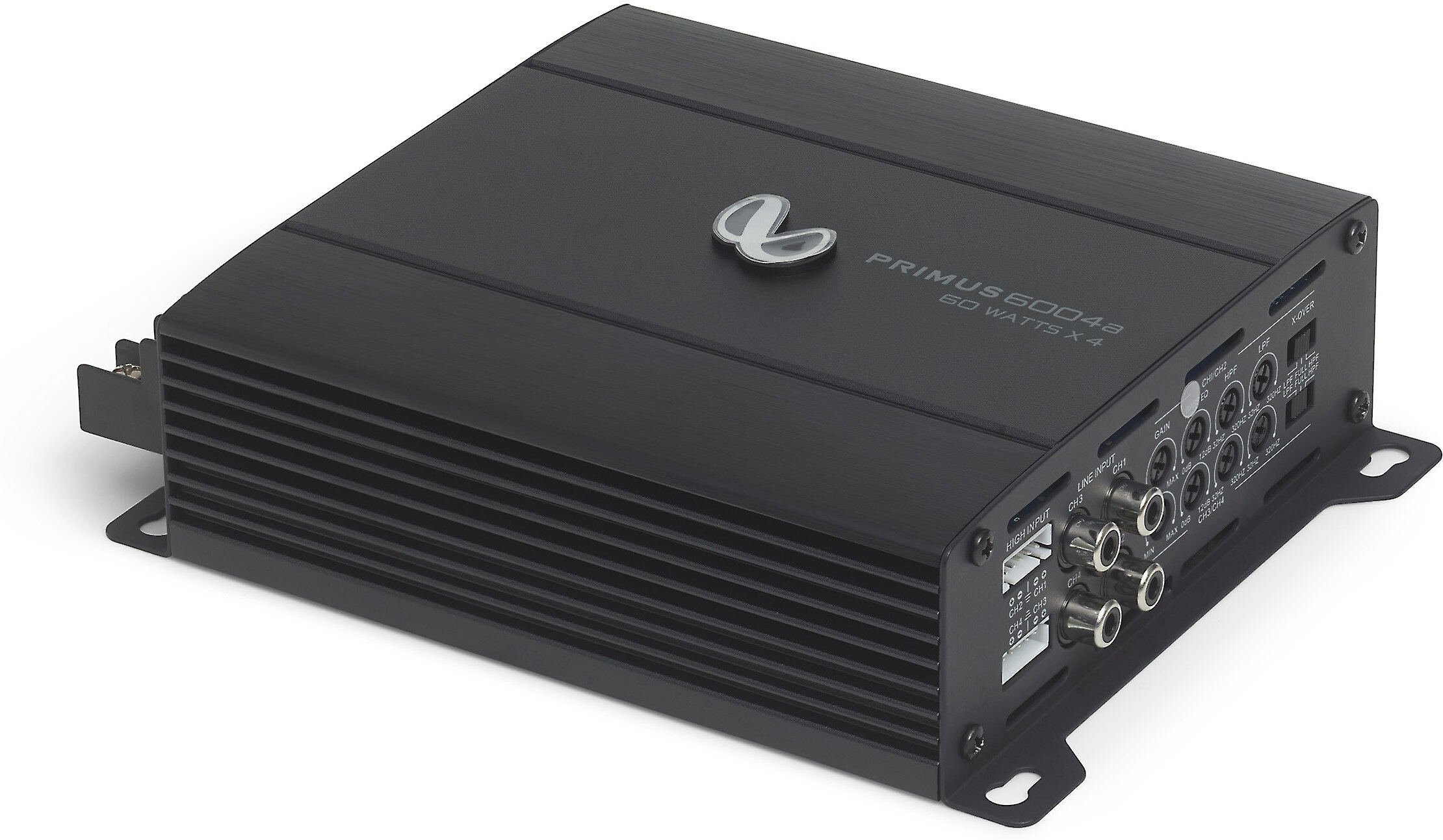 Infinity Primus Amps are available in a variety of configurations, delivering the right power and number of channels for full-range and subwoofer applications. For more than four decades, Infinity has made the audio experience a lot more satisfying for the car audio enthusiast. With a broad array of loudspeakers, amplifiers and subwooers available, you can drive with ease and exhilaration. These compact amps are equipped with all the important inputs and user controls including a bass EQ as well as LPF and HPF crossover controls for tailoring sound to suit the characteristics of different vehicles. The Primus Amps are easily installed and amazingly reliable - and once they turn on, they'll make a transducer sit up and sing.
Value Engineered
Primus amplifier provides true Infinity performance at an affordable price while now lacking the features needed to properely tune and optimize performance.
Compact footprint
With it becoming more and more difficult to find spacious locations for amplifier mounting, Primus has been developed in a small compact form factor to allow more location versatility.
Full On-Board Protection.
Primus amplifier has on-board circuitry to protect them from shorts, temperature, overvoltage and undervoltage. An LED indicator is inlcuded on all four models to let you know when one of these conditions exists.
Reliability
Infinity is one of the best selling car audio brands in the world. This is not a coincidence given the arduous testing and quality control. We take our craft seriously and want every consumer to have a world class experience that lasts and lasts.
Input Sensitivity
An input level control adjusts input sensitivity. When low level nputs are used, this control can adjust the input between 200mVrms and 5.0Vrms. When high level inputs are used, the control adjusts the input between 0.5Vrms and 15Vrms. This allows Primus amps to be conntected to virtually any factory system or serve as the foundation for a trophy winning aftermarket competition system.
Switchable bass EQ
This provides an available bass boost at 45Hz of 6dB or 12dB, serving as a great tool to optimize subwoofer and loudspeaker performance based on location and enclosure type.
Cool industrial design
Black with grooved center panel, polished badge, black painted end panels and bottom.
Crossover mode switch
LPF crossover controls is switchable between 0dB to 12dB at 45 Hz giving user ability to adjust sound to the environment and/or application.
Crossover control gives user additional fine tuning
Adjusts the crossover turnover frequency between 32Hz and 320Hz. (One knob for each stereo pair.)
Features:
Class-D Full Range 4-Ohm Stable 4-Channel Amplifier

RMS Power Rating:

4 ohms: 60 watts x 4 chan

2 ohms: 70 watts x 4 chan.

Bridged, 4 ohms: 140 watts x 2 chan

Total power output: 1000 watts

Pulse Width Modulated MOSFET power supply

LED power (green) and protect (red) indicators

Soft start turn-on

4/3/2 channel operation

Speaker-level (high-level) inputs

Preamp RCA outputs to daisy chain multiple amps

3-way protection circuitry (thermal, overload, and speaker short protection)

Dual speaker terminals simplify the hookup of multiple speakers

Heavy duty aluminum alloy heat-sink

Input sensitivity:

High level: 0.5V-12V

Frequency Response: 20 - 2000 Hz

Total Harmonic Distortion (THD): <1%

Signal to Noise Ratio: >75 dB

Variable low-pass filter: 32 - 320 Hz, 24 dB/octave

Variable high-pass filter: 32 - 320 Hz, 24 dB/octave

Variable Bass Boost: 0 to +12 dB bass boost at 45 Hz

Fuse Rating: 15A x 2
Content:
1 x Car Amplifier

Manual

Fitting as per Manufacturer
Shipping

Hi there, you can choose delivery or self-pick up at our store in Ara Damansara. Contact +6019-269 6609 to pick up or more professional car audio advice!

Free Shipping within West Malaysia. We will bubble wrap to protect your goods before shipping.

We will ship out the product within the same working day. If fall on the weekends, we will ship out on Monday.
Need Professional Car Audio Advice? (FREE)

+6019-269 6609

Call or Whatsapp us for professional car audio advice, we don't bite :D

If you want to listen to the live demo of this product, kindly contact us.
Share
View full details