---
Infinity REF6530CX + REF6532EX + REF704A + Basslink SM with RBC Remote Car Audio Set Foc 2 x STP Gold Soundproof & 2 x STP Aeroflex 6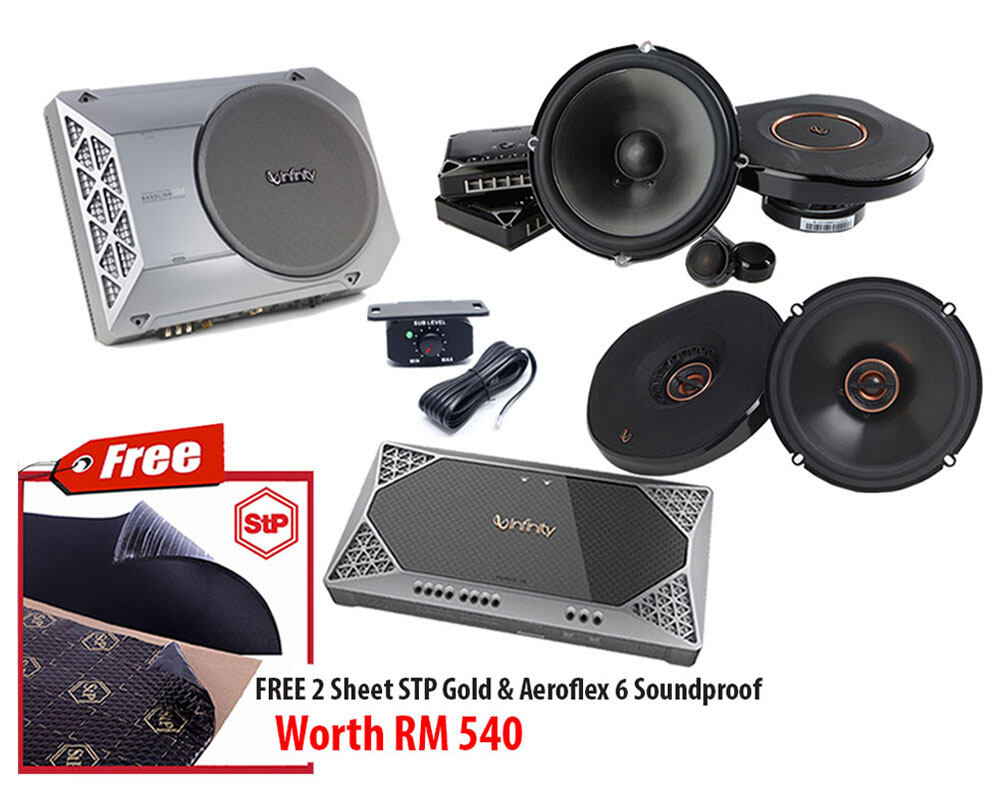 Infinity Reference REF6530CX Specifications:
6.5" 2-Way Component Speaker

Power Handling: 

Peak: 270 Watts

RMS: 90 Watts

Frequency Response: 53 - 21000 Hz

Sensitivity: 93dB

Impedance: 3 Ohms

Plus One oversized polypropylene midwoofer

Edge-driven textile tweeters
Infinity Reference REF6532EX Specifications:
6.5" 2-way car speakers

Peak Power: 165 Watts

RMS: 55 Watts

Polypropylene woofer cone w/ hi-roll rubber surround

1" textile dome tweeter

4 Ohm Impedance

Frequency response: 57-21,000 Hz

Sensitivity: 93 dB

Top-mount depth: 1-13/16"
Infinity Reference REF704A Specifications:
Infinity Reference Series REF-704A 4-Channel Amplifier

RMS Power Rating: 

4 ohms: 70 watts x 4 chan.

2 ohms: 100 watts x 4 chan.

Bridged, 4 ohms: 200 watts x 2 chan.

Total power output: 1000 watts

Pulse Width Modulated MOSFET power supply

LED power (green) and protect (red) indicators

Soft start turn-on

4/3/2 or Mono channel operation

High and Low level speaker inputs

3-way protection circuitry (thermal, overload, and speaker short protection)

Dual speaker terminals simplify the hookup of multiple speakers

Heavy duty aluminum alloy heat-sink for extreme heat dissipation

Slim and compact chassis provides more installation options

HALOsonic mixing input

Frequency Response: 32 - 320 Hz

Signal to Noise Ration: >85dB

Total Harmonic Distortion (THD): <1.0%

Phase: 0 - 180°

Variable Bass Boost: 0 to +9 dB

Fuse Rating: 30 A x 2
Infinity Basslink SM Specifications:
Amplifier Power:125W RMS

Fuse:20A

Maximum Current Draw:12A

Quiescent Current Draw:less than 800mA

Input Sensitivity: 0.2V – 2V Line-Level Input; 2V – 20V High-Level Input

Frequency Response:35Hz – 120Hz

Crossover Frequency:50Hz – 120Hz

Crossover Slope:12dB/octave

Bass Boost:0dB to +9dB @ 70Hz
Harman RBC Remote Controller Specifications:
The RBC is an optional wired remote volume control forthe BASSPRO SL subwoofer that allows easy adjustments of the bass/subwoofer levels from the vehicle's front seat. The remote bass control is simple to connect to the BASSPRO SL subwoofer amplifier via a telephone-style plug jack, and can be mounted in a variety of positions to suit your specific vehicle and preferences.
STP Gold Soundproof Specifications:
Package contains: 4.5 m2

Package contains: 1 sheet

Sheet size: 750 x 500 mm

Thickness: 2.3 mm
STP AeroFlex 6Specifications:
Package contains: 3.0 m2

Package contains: 1sheet

Sheet size: 375 x 500 mm

Thickness: 6 mm
Content:
4 x Car Speakers

2 x Car Tweeters

2 x Car Crossovers

1 x Car Amplifier

1 x Underseat Subwoofer

Manual

Fitting as per Manufacturer