STANDARTPLAST Gold Line Accent 6 Car Soundproof - 16 Sheets
STANDARTPLAST Gold Line Accent 6 Car Soundproof - 16 Sheets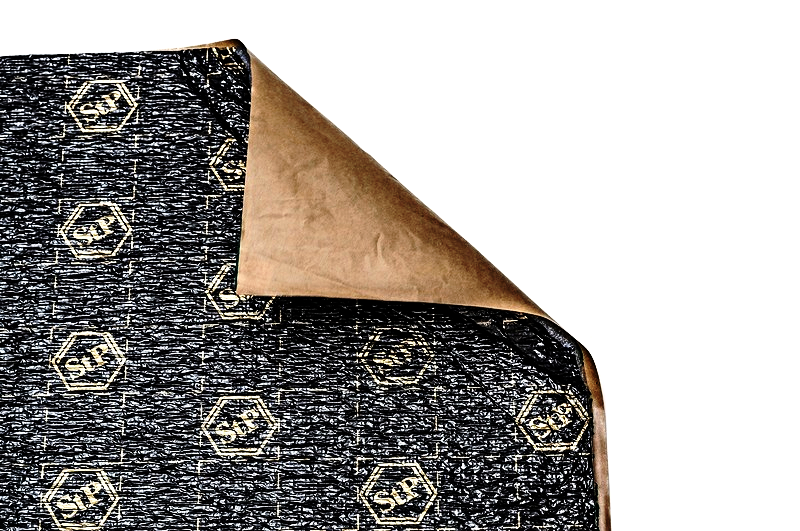 STP Accent is a heat-insulating vibration damping self-adhesive material.
The material is grey, elastic, evenly foamed, small-meshed polyethylene with partly ruptured closed cell structure, the facing layer without dints and the mounting layer, covered with antiadhesive paper.
Exploitation requirements
The material must be installed on clean dry metal surfaces, including complex surfaces with bend radius of minimum 100 mm. To clean the material of dirt, it is recommended to use water with neutral abstergents, not containing organic solvents and alkali. Upon dismantling, the material cannot be reused.
Preparation for installation
In case the material is stored or transported at temperature, lower that 0°C, before installation it must be kept at temperature (20±5) °C for not less than 24h. The mounting surface must be cleaned of dust and dirt, unoiled with technical solvents and kept until complete dry.
Installation
Anti-adhesive paper must be peeled of systematic, smoothly; the detail must be pressed to the surface, avoiding air blisters formation.
The material mustn't be installed on dirty, corroded metal surfaces.
Application
Doors, Floor, Hood, Trunk
Specifications
Package contains: 3,0 m2

Package contains: 16 sheets

Sheet size: 375 x 500 mm

Thickness: 6 mm