Put Perfect sound in your car
Infinity's flagship Kappa Perfect Series speakers look so good and feel so solidly built that it's a shame you probably won't lay your eyes on them again after they're installed, but it's a small price to pay to experience unrivaled audio in your vehicle. This Kappa Perfect 600 6-1/2" component system is a heart-and-soul Infinity creation, utilizing the very best technology and materials available to their engineers.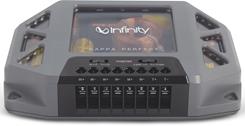 Add the optional Kappa Perfect 3-1/2" midrange speaker to this system and change the crossover settings with the flip of a switch
High-definition tweeters
Prepare to hear nuance and detail in your favorite music that you never knew was there. Infinity uses edge-driven polyimide dome tweeters to achieve a frequency response up to 30,000 Hz. The "edge-driven" design creates a larger tweeter that handles more power and delivers smooth response way down into midrange frequencies as well. You'll hear a more clearly defined soundstage where you can picture the placement of every instrument.
Tweeter mounts included
While installing tweeters can sometimes prove challenging, Infinity includes versatile hardware for surface- or flush-mounting, making the job much easier in most vehicles.
Carbon fiber woofer with Plus One+ technology
Infinity uses a carbon fiber woofer that weighs less than traditional materials, so you don't need a ton of power to drive this woofer, but the oversized voice coil certainly allows for awesome power-handling if you're driving this system with an amp. Infinity's Plus One+ woofer technology extends the cone right up to the edge of the basket, giving you more surface area than with most comparable speakers. A bigger cone means more bass to complement the superior high-frequency response. The included external crossovers send the appropriate frequencies to the tweeters and woofers.
Want a 3-way Kappa Perfect system?
Infinity makes it easy to turn this Kappa Perfect 2-way component system into a 3-way system with the addition of optional 3-1/2" midrange speakers. Simply flip the switch on each Kappa Perfect crossover to a 3-way system configuration for a well-rounded sound. These speakers are sensitive enough that you can power them with an aftermarket stereo, but you'll get your best results feeding them plenty of power from an outboard amp — up to 100 watts RMS.