---
Infinity KAPPA 1200W 12" (300mm) High-Performance 2000W Selectable 2 or 4-Ohms Impedance Car Subwoofer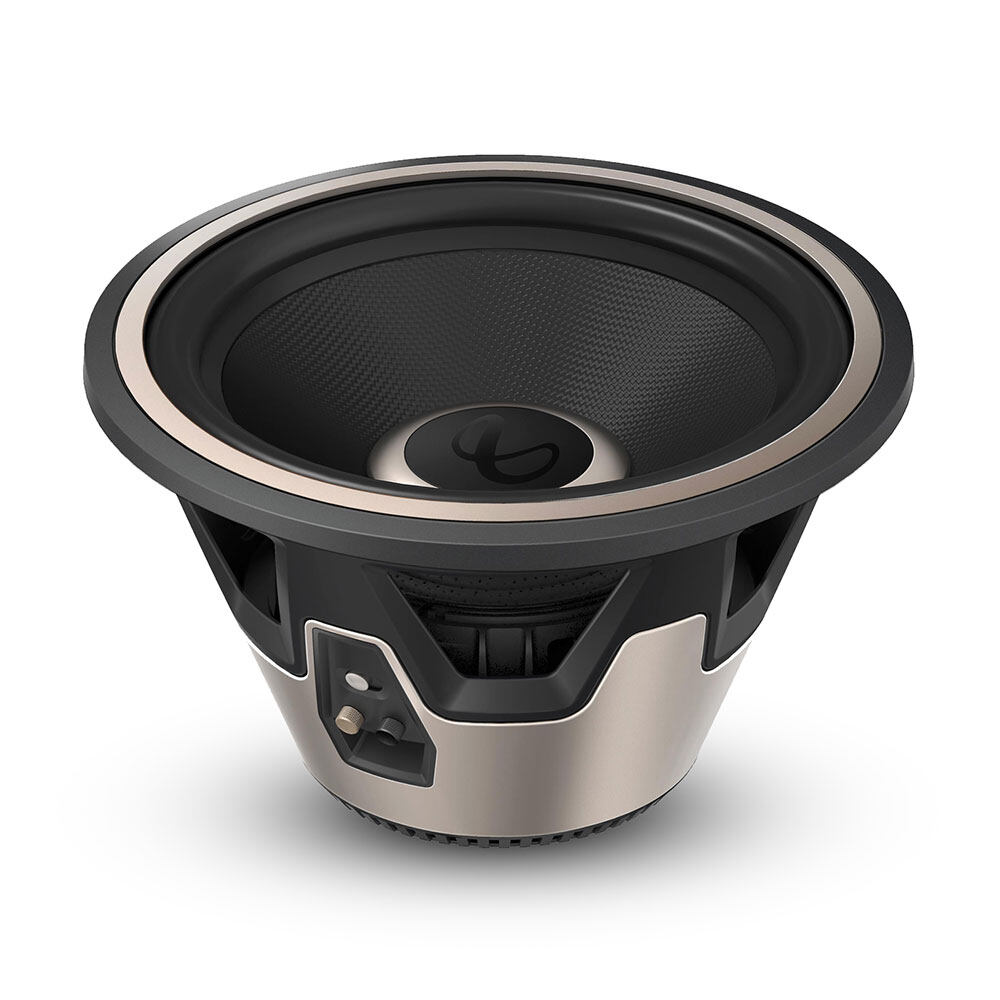 Infinity's Kappa 1200W 12" subwoofer features the unique Selectable Smart Impedance design, which lets you build exactly the system you want — high-power or multi-sub — without complicated wiring. Just flip the convenient impedance switch to safely choose between 2 or 4 ohms. If you're thinking about upgrading your amplifier or adding another sub down the line, this sub makes it easy to reconfigure — and it's nearly impossible to wire incorrectly.
This sub handles plenty of power and sounds great in sealed or ported enclosures. Infinity's proprietary aero-cooling design helps keep the 2" voice coil cool. The acoustically damped glass-fiber cone minimizes distortion, giving you nothing but pure bass. And the steel basket provides a solid base for the sub, which handles up to 500 watts RMS. Infinity's Kappa subwoofers are known for their sound quality, and they offer the wiring versatility you need to build a system for your changing needs.
SSI™ (Selectable Smart Impedance)
Most car audio system designs call for 2- or 4-ohm impedance. Kappa Series subwoofers put the choice in your hands. A proprietary HARMAN technology, SSI lets you reconfigure your system by simply flipping a switch.
Aero-cooled voice coil
The Kappa Series voice coil employs a two-sided, ducted airflow design that cools the voice coil, increases power handling and improves reliability. This aero-cooling design is unique among aftermarket subwoofers.
Acoustically damped glass-fiber cone
Kappa subwoofer cones incorporate glass-fibers for exceptional accuracy and detail. Inherently non-resonant, the glass-fiber cones eliminate distortion so your music—and nothing but your music—comes through loud and clear.
Premium screw-down terminals
Power is the lifeblood of any subwoofer. The terminals on the Kappa subwoofers accommodate up to 8-guage wire (8.37mm 2 cross section), which transfers low-resistance, low-loss power to the woofer, even over long wire runs.
Specifications
Power Handling: 500W RMS; 2000W Peak

Sensitivity (@ 2.83V): 91dB

Voice Coil Diameter: 2" (51mm)

Impedance (ohms): 2 or 4, switch selectable

Frequency Response: 23Hz – 400Hz

Voice Coil Diameter: 2" (51mm)

 
Content:
1 x Car Subwoofer

Manual

Fitting as per Manufacturer