---
Pioneer GM-D9701 2400W Peak Class-D Monoblock with Bass Boost Remote Car Amplifier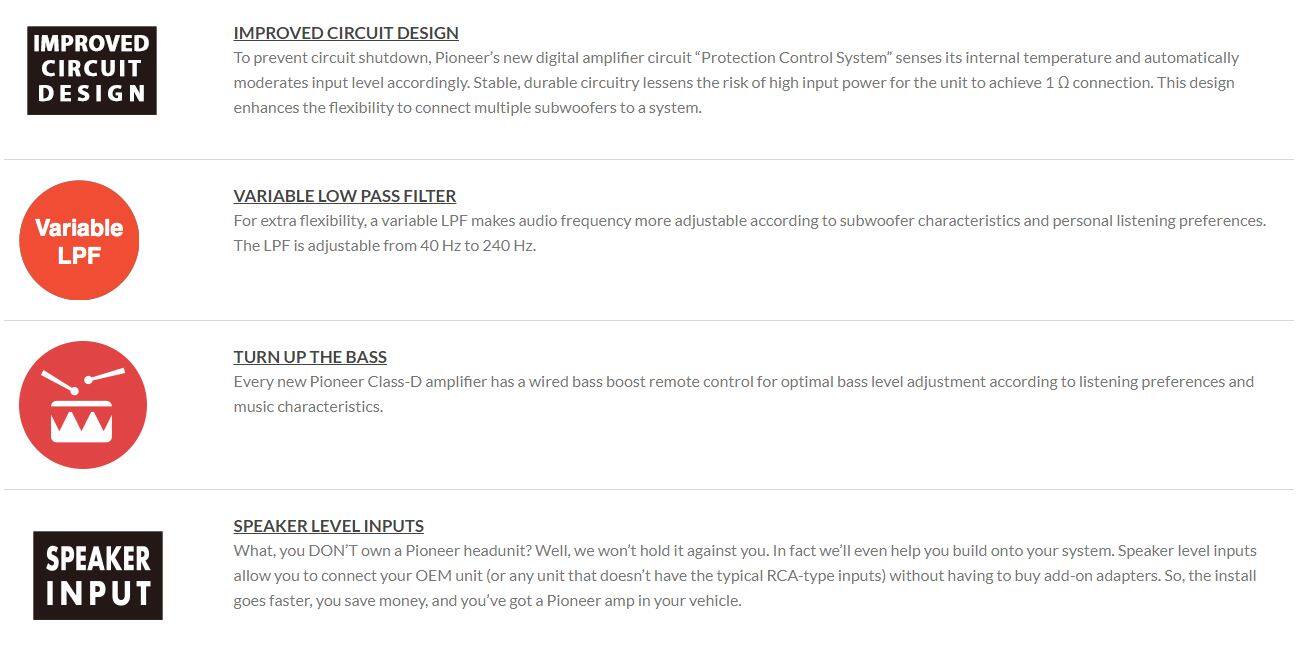 Our most powerful GM-range Class-D amplifier. It doesn't take up too much space, and your subs will love its signal. It combines a 1-Ohm stable circuit, installation flexibility and a superior high-power output.
High Quality Sound Parts and Tuning
Audio film capacitors and low-impedance coil are used for the output LC filter to ensure excellent sound quality. Audio tuning based on the reproduction of the original audio source allows everyone to experience the difference in sound quality when connected.
High-capacity Audio Power Source Capacitor
Pioneer's original high-capacity audio power source capacitor contributes to higher sound quality and stable power allotment even at high output.
Variable HPF & LPF
Adjust LPF & HPF (40-500 Hz)
Specifications
Number of Channels - Mono

Max. Wattage (4 Ω) - 1,000 W x 1

Max. Wattage (2 Ω) - 1,600 W x 1

Max. Wattage (1 Ω) - 2,400 W x 1

Max. Wattage Bridged (4 Ω) -

Wattage RMS (4 Ω <= 1%THD+N) - 500 W x 1

Wattage RMS (2 Ω <= 1%THD+N) - 800 W x 1

Wattage RMS (1 Ω <= 1%THD+N) - 1,200 W x 1

Wattage RMS Bridged (4 Ω) -

Frequency Response - 10 Hz to 240 Hz

Total Harmonic Distortion (1kHz, 4 Ω) - < 0.5% (100 Hz)

Signal-to-Noise Ratio (IHF-A Weighted) - > 100 dB

Dimensions (W x H x D) - 315 mm x 60 mm x 200 mm
Content:
1 x Car Amplifier

Manual

Fitting as per Manufacturer