STANDARTPLAST Gold Line Black Gold Bulk Pack Car Soundproof - 12 Sheets
STANDARTPLAST Gold Line Black Gold Bulk Pack Car Soundproof - 12 Sheets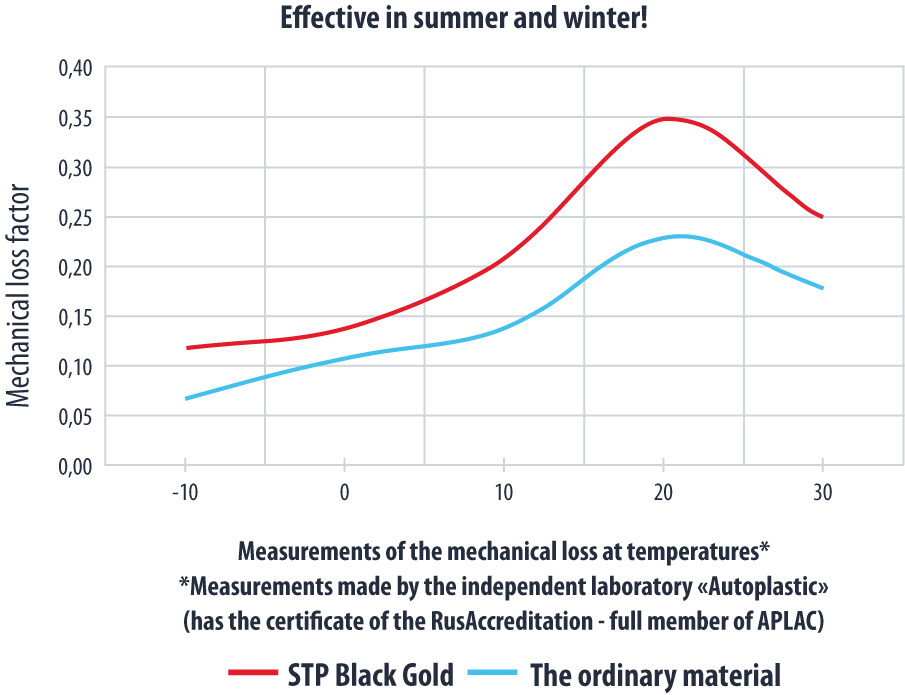 STP BLACK GOLD is used as a vibration-damping coating in vehicles, agricultural machinery and other objects, which must meet particular requirements of effective sound and vibration reduction. The material is designed to be used at temperatures from -45 to 100°C; the material can survive short-time action of temperature up to 190°C.
The material is a construct, consisting of foil with embossment and printed logo, and an adhesive polymer layer protected with anti-adhesive paper. To improve anti-corrosion properties, the material contains corrosion inhibitive composition.
Exploitation
The exploitation temperature range is from -45 to +100°C. The product may be exposed to the temperature up to 150°C for maximum 10 minutes.
Preparation for Installation 
In case the material is stored at temperature lower that 0°C, before use it must be kept at temperature (20±5)°C for minimum 24h. The working space temperature must be (18-30) °C. The mounting surface must be cleaned of dust and dirt, unoiled with technical solvents and kept until completely dry. Anti-adhesive paper must be peeled of systematic, smoothly; the detail must be pressed to the surface, avoiding air blisters formation.     
The material mustn't be installed on dirty, corroded metal surfaces.
Installation 
The material can be mounted on horizontal and vertical surfaces including surfaces if irregular shape. The product is mounted on polyethene foam. In case of industrial assembly, the material can be mounted on other surfaces assuming that the material to surface bond strength is in compliance with the present technical specifications. The product cannot be reused upon dismounting.
Application
Doors, Roof, Fire-wall, Wheel arches, Trunk compartment, Bonnet, Trimming
Specifications
Package contains: 4,5 m2

Package contains: 12 sheet

Sheet size: 750 x 500 mm

Thickness: 2,3 mm